Page Menu
Submitting Your Model: Benefits and expectations for authors
More about the pd|hub Collections >
Disseminating one's work with enough detail and support to promote widespread adoption is time-intensive, and typically beyond what is possible for educators in STEMM PhD career development. We designed the pd|hub Collections framework with these challenges in mind, building into the framework mechanisms to incentivize and support educators through the dissemination process.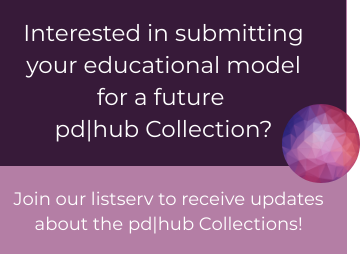 Who should submit their model to the pd|hub Collections?
We encourage all educators and practitioners who have taught or coordinated a course, workshop, event, peer learning community, or another educational approach for predoctoral or postdoctoral career development to submit their model for consideration. A handful of submissions (estimated 3-6) will be selected to be featured in the pd|hub Collection, with one (or, in some cases, two) of each model's authors invited to more actively engage with pd|hub as Fellows (see below). We are seeking to highlight a true diversity of models, and encourage anyone interested to submit their approach.
Benefits of submitting your educational approach to the pd|hub Collection
Enhanced recognition

for you and your institution. You'll be training colleagues nationally in the graduate education and professional development field

Support to disseminate your program model

, including assistance with developing an implementation guide and annotating lesson materials, teaching 2 train-the-trainer workshops, presenting at conferences, and publishing. Where possible, costs for dissemination will be covered by pd|hub

Building your network and expertise

by working closely within a cohort of peers and experts from across the nation

$5,000/year

for your 2.5 year commitment to the program (total $12,500), in addition to paid travel expenses for in-person events as needed

Mentoring and training in inclusive pedagogy, education research, dissemination and implementation, and program assessment via access to advisors and content experts
Satisfaction from observing your educational model being adapted and implemented

at other institutions, along with data collection to further evolve your model
If my model is selected, what is expected of me?
At least one author, and no more than two, of each educational model selected for the Collection will be expected to commit to playing an active role in dissemination of the model for 2.5 years as a Fellow. To recognize the important contributions of these individuals, $5,000 per year, recognition, and support are provided through this term (see above). After the model is selected, this role requires:
Annotating lesson materials with teaching/facilitation and implementation strategies
Co-leading two train-the-trainer workshops (spaced approximately 6 months apart, anticipated Fall 2022 and Spring 2023), teaching an anticipated 15 institutional teams of staff/faculty at institutions from across the country (total of 30-40 participants) per workshop

Meeting as a consultant with institutional teams as "communities of practice" for a year following each of the train-the-trainer workshops, to address questions as others adapt and implement your model at their institutions (anticipated 2-4 one-hour meetings per month, Fall 2022 through Spring 2024)

Contributing your evaluation strategy for consideration as part of a standardized evaluation protocol for the Collection.
About the Fellow experience:

Work together with a cohort of educators, content experts, and pd|hub staff to broaden impact

One (or two, in some circumstances) author(s) will be selected as a Fellow(s) to lead dissemination through pd|hub for each model. You will meet as a cohort of leaders to become familiar with the other models selected for the Collection. These early discussions will help you identify key elements of your model to highlight as you begin to develop an implementation guide and annotate your materials. Consultants who serve as content experts on the pd|hub team will join meetings to provide guidance on annotations related to diversity and inclusion, implementation, and evaluation. pd|hub staff will work with the cohort to map out a timeline for developing materials, facilitate meetings, and provide additional guidance through the annotation process.

An exciting aspect of the Collections dissemination framework is the opportunity to engage with other educators who are interested in adapting and implementing your model. As a cohort of leaders in the Collection community, you will each teach about your own model in the train-the-trainer workshop (held once and repeated ~6 months later). You will get to know these educators, address questions about implementation, and learn about their experiences at their own institutions through monthly community-of-practice meetings. To maximize time efficiency, pd|hub staff with pedagogical expertise will meet regularly with you, coordinate publicity and logistics for the train-the-trainer workshops, and coordinate the community-of-practice meetings. As other organizations begin to collect data, you will learn more about the model's adaptability and further build your expertise in the field.

Throughout the 2.5-year experience, you will have the opportunity (and funding) to present your model at conferences and via webinars to further outreach and disseminaton. You will also have the opportunity to participate in a writing retreat to support publishing of data arising from the broad implementation of your model at other universities, and new innovations arising as a result.



2021 Call for Submissions
The 2021 Call for Submissions is now closed. This pd|hub Collection is focused on career exploration* for STEMM PhD graduate students and postdocs. Collections launched in future years will focus on other professional development competencies.
Questions?
The pd|hub Collections are being developed with support from an Innovative Programs to Enhance Research Training (IPERT) award from the National Institute of General Medical Sciences (NIH 1 R25 GM139076-01). The information, opinions, data, and statements contained herein are not necessarily those of the U.S. Government or the National Institutes of Health (NIH) and should not be interpreted, acted on, or represented as such.