We're hiring!
Date Posted: Wednesday, June 01, 2022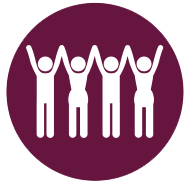 As Professional Development Hub (pd|hub) moves into a new, highly-visible phase, we are looking to broaden our team with expertise in written and visual communications. We have immediate need for an infographic designer for a couple of discreet short-term projects, and for a part-time Community Engagement Lead to help us craft and enact a communications and community engagement strategy. Both can be done remotely.
For either role, we would highly value candidates with significant experience, but are also quite open to candidates who are earlier in their career and seeking to enhance their experience (such as graduate students or postdocs interested in moving toward communications, graphic design, or engagement related roles). Because pd|hub has an advocacy-oriented mission to support systemic change, candidates with communications strengths who are interested in transitioning toward science or education policy may also find this to be a valuable opportunity. Join our team to support change in graduate and postdoctoral education!
Full details here.